12 Things to See and Do in Bergen, Norway (Updated 2020)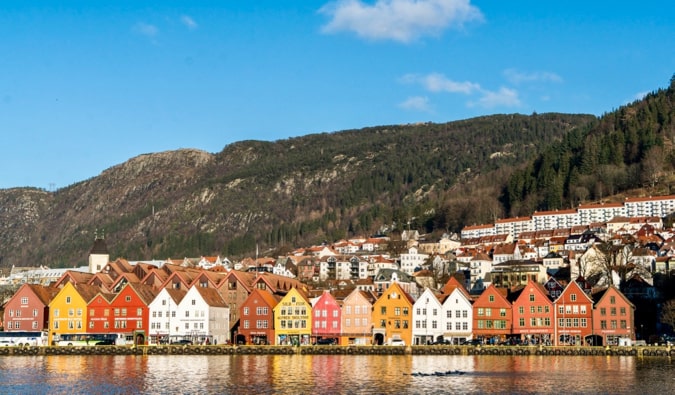 Posted: 5/25/2020 | May 25th, 2020
Enveloped by steep mountains and sitting next to the country's deepest and longest fjord, Bergen is a small city tucked away on the west coast of Norway.
Though home to only 220,000 people, there's a surprising amount of things to see and do in this tiny city. You can easily spend days here hiking its natural surroundings, relaxing on a fjord cruise, eating fresh seafood, and learning about its long history. I stayed about three days during my visit and felt I could have stayed a little longer. It's pretty, historic, and filled with a lot of good food options.
Bergen is a pretty big tourist destination in Norway so you sadly won't have this city to yourself. To help you make the most of your trip, here are my top 12 things to see and do in Bergen:
 
1. Take a Free Walking Tour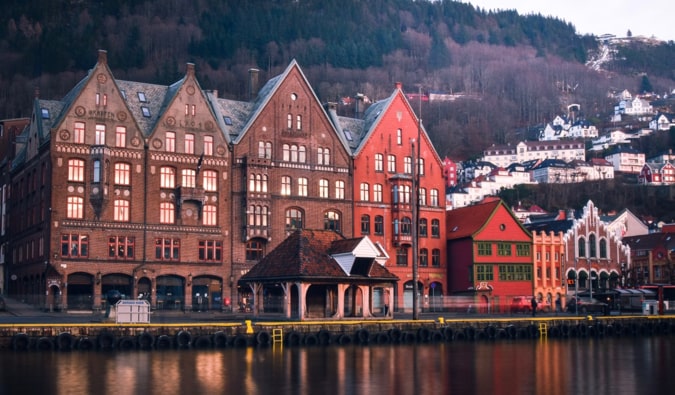 The first thing I do whenever I arrive in a new place is to do a free walking tour. They're the best way to get the lay of the land, see the main sights, and meet a local expert of whom I can ask all my questions.
Nordic Freedom Tours organizes regular tours in English and Spanish. (Just make sure to tip your guide at the end!)
 
2. See the Fish Market
The Bergen Fish Market dates back to the 13th century. For centuries, it's been the hub for local fishermen to sell their fresh fish and seafood. The indoor section of the market began in 2012 and is open year-round (the outdoor market opens on May 1 for the summer).
If you're looking to sample some local delicacies, there are also lots of restaurants and food stalls. Just make sure you budget yourself, as prices range from 130 NOK ($14 USD) for an appetizer to around 290 NOK ($30 USD) for a main dish.
Torget 5. Open Monday-Thursday from 10am-10pm, Friday-Saturday from 9am-10pm, and Sundays from 11am-10pm.
 
3. Visit the Maritime Museum
Bergen has depended heavily on maritime trade since its inception in the 11th century. You can spend an afternoon at this museum learning about the city's maritime history. The exhibitions include ships, paintings, films, artifacts, original maps, and some cannons from the 18th century.
The highlight here is the Kvalsund boat, an old Viking longship that dates to the eighth century. It was excavated in 1920. There's also an original Halsnøy boat that dates back to somewhere between 390 and 535 CE.
Haakon Sheteligs plass 15, +47 55 54 96 00, museumvest.no. Open daily 11am–3pm. Admission is 100 NOK ($10.50 USD). You can take a guided tour of the museum in English during the months of June, July, and August.
 
4. Wander Bryggen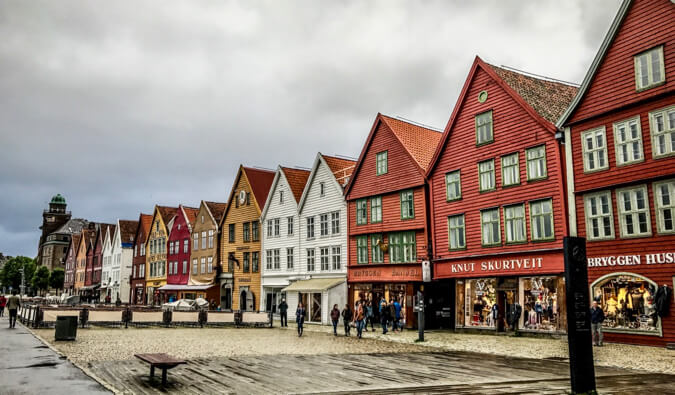 Bryggen is the old wharf and is home to over 60 narrow, brightly colored wooden boathouses. From the 14th through the 16th centuries, Bryggen was the main hub for the Hanseatic League, a powerful merchant guild from central and northern Europe. Fun fact: its office is the only original building that's still standing -the rest have been rebuilt in the same style.
Today, these buildings are used by various restaurants, tourist offices, and hotels. Though fires have ruined a lot of the original buildings, the area is still a beautiful place to wander around. You can take a 90-minute guided walking tour with Bryggen Walking Tour to learn about the history of the wharf. The tour also includes entry to the Bryggen Museum and the Hanseatic Museum.
 
5. Explore the Botanical Garden
Bergen's Botanical Garden was established in 1996 and covers 17 acres. It's a nice place to grab some fresh air and relax with a book. With over 5,000 species of plants, it's home to Norway's largest collection of roses, as well as the largest collection of rhododendrons in Scandinavia. There are also different sections, like the Sunny Meadow (home to summer annuals), a traditional Japanese garden, and the Alpine Garden, with all kinds of alpine plants from around the world.
Mildevegen 240, +47 55 58 72 50, uib.no/arboretet. The garden is open 24 hours and admission is free.
 
6. Hike Mount Ulriken

Located just a few kilometers outside the city, Mount Ulriken stands 643 meters (2,100 feet) high and is the tallest of the seven mountains near Bergen. If you're not feeling up for a hike to the top, you can take the cable car, which takes about eight minutes and costs 285 NOK ($30 USD) round trip. At the top, you'll get spectacular sweeping views of Bergen and the sea. There are some shorter hikes (2-3 hours long) up there as well.
If you enjoy an adrenaline rush, you can speed down the mountain on Norway's fastest zipline. It opened in 2016 and is 300 meters long. You need to book tickets in advance though. Tickets cost 450 NOK ($47 USD).
 
7. Explore Pepperkakebyen

The Gingerbread City, open in November and December, is the world's biggest annual gingerbread festival. It started in 1991 and now includes over 2,000 volunteers, bakers, businesses, and schools. It is made up of hundreds of gingerbread houses and made to resemble a snowy wintry nighttime in Bergen. If you're here during the holiday season, don't miss it!
Teatergaten 30-2, +47 55 55 39 39, pepperkakebyen.org. Open from mid-November until December 31. Admission is 100 NOK ($10.50 USD) for adults and free for children under 12.
 
8. Visit KODE
The KODE Museum is one of the largest in Scandinavia for music, contemporary art, furniture, videos, historical artifacts, and crafts. It showcases a wide variety of over 40,000 objects that date back to the 1800s. The museum is located in four buildings; visitors can also visit the homes of three famous Norwegian composers (Edvard Grieg, Harald Sæverud, and Ole Bull).
Head over to KODE 1 to see the Silver Treasure, a permanent exhibition of gold and silver objects, dating from 500 years in the past. For temporary exhibitions and Bergen's largest art bookstore, check out KODE 2. KODE 3, which opened in 1924, is home to works from Edvard Munch, who painted The Scream.
Rasmus Meyers allé 9, +47 53 00 97 04, kodebergen.no. Open Tuesday–Sunday (hours vary per season). Admission is 140 NOK ($14.70 USD) in the winter and 160 NOK ($16.80 USD) in the summer.
 
9. See Bergenhus Fortress

Next to the Bergen Harbor is an imposing stone fort called the Bergenhus Fortress. It dates back to the 1260s and is one of the oldest fortresses in Norway. It encompasses Rosenkrantz Tower, a fortified tower that dates to the 16th century, and Haakon's Hall, a former royal residence from the 13th century.
Unfortunately, a fire destroyed Haakon's Hall and all of the interior decorations in 1944, so it is now decorated with tapestries and is mainly used for concerts and banquets. The Rosenkrantz Tower was the residence of Eirik Magnusson, the last king to hold court in Bergen. Make sure you climb the narrow stairs to the top of the tower, where you'll get an impressive view of the surrounding area.
5003 Bergen, +47 55 54 63 87. Admission is free, though guided tours in English are available June–August and cost 100 NOK ($10.50 USD).
10. Visit the Leprosy Museum
Leprosy ran rampant in Europe between 1850 and 1900. With three leprosy hospitals, the city had the greatest concentration on lepers in all of Europe. This eye-opening museum is located inside of St. George's. Its archives belong to UNESCO's Memory of the World Programme. You can take an educational tour to learn about the history, symptoms, and treatment of leprosy, as well as what the conditions were like in the hospitals during the outbreak.
Kong Oscars gate 59, +47 481 62 678. Open May–August. Admission is 100 NOK ($10.50 USD); guided tours in English are 30 NOK ($3 USD) and occur at 11am.
 
11. Go on a Food Tour
Bergen's strong focus on local and sustainable food helped it earn its title of UNESCO Creative City of Gastronomy in 2015. Bergen Food Tours is a local tour company that organizes tours to some of the tastiest restaurants in the city. The three-hour Bergen Classic tour costs 870 NOK ($91 USD) and will give you a taste of local dishes like fish soup, wild salmon, reindeer sausage, smoked seafood, and brown cheese, as well as local craft beer.
Nesttunkollen 9, +47 960 44 892, bergenfoodtours.com. Open Monday-Saturday from 11am-5pm. Check website for tour times. Tickets are 890 NOK ($80 USD) per person.
 
12. Take a Fjord Cruise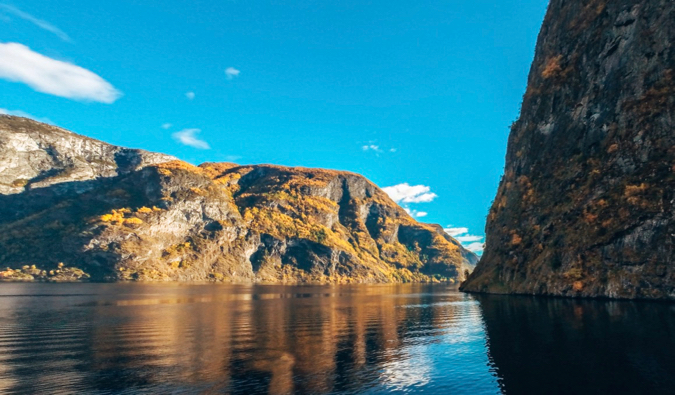 This is a spectacular way to view the fjords up close and take a relaxing break from the city. There are several different fjords around Bergen, so you can choose a tour that suits your budget and timing.
The one to Mostraumen run year-round tour and takes you 27 kilometers in the Osterfjord along the Mostraumen strait. You'll see towering mountains, sparkling waterfalls, and you might even spot seals and eagles!
You can also take a fjord cruise to Nærøyfjord and Sognefjord (Norway's longest fjord) to get up close to the gorgeous valleys and gigantic peaks.
Expect to pay anywhere from 700 to 2,000 NOK ($73–209 USD) per person.
***
Even though Bergen can be an expensive destination to visit but there are plenty of free and budget-friendly activities here to keep you busy. It's a popular destination but it lives up to its reputation. I loved my visit to Bergan. I suspect you will too.
Book Your Trip to Bergen: Logistical Tips and Tricks
Book Your Flight
Find a cheap flight by using Skyscanner or Momondo. They are my two favorite search engines, because they search websites and airlines around the globe, so you always know no stone is being left unturned.
Book Your Accommodation
You can book your hostel with Hostelworld as they have the most comprehensive inventory. If you want to stay somewhere else, use Booking.com, as they consistently return the cheapest rates for guesthouses and hotels. My favorite places to stay in Bergen are:
Don't Forget Travel Insurance
Travel insurance will protect you against illness, injury, theft, and cancellations. It's comprehensive protection in case anything goes wrong. I never go on a trip without it, as I've had to use it many times in the past. I've been using World Nomads for ten years. My favorite companies that offer the best service and value are:
Looking for the best companies to save money with?
Check out my resource page for the best companies to use when you travel! I list all those I use to save money — and I think they will help you too!
Looking for more travel tips for Norway?
Check out my in-depth Norway travel guide for more ways to save money, tips on what to see and do, suggested itineraries, informational reading, packing lists, and much, much more!
Photo credit: 4 – Paul Arps, 5 -Toniu, 6 – Sveter